Lately I've been doing a bit of dyeing, something I've wanted to try out for quite a while. I bought a set of three little jars each of mixing primaries of Procion MX dyes to use on cotton fabric and acid dyes to use on my handspun yarn. I started out dyeing some Kona PFD cotton that I'd cut into fat quarters, the first few in mostly solid shades, then started playing with some resist dyeing.
I recently picked up a copy of Jane Callender's Stitched Shibori, which is full of astonishingly beautiful stitch-resist designs. I tried out the first and simplest technique in the book, mokume, which produces a wood grain pattern.

The piece of fabric I experimented on was about a half-yard. I started out by making five rows of running stich every two inches, drawing a guideline for the two-inch marks so things wouldn't start to veer off-course.
After a week of stitching on it during lunchtime at work and while watching TV or listening to books in the evenings, I decided that I'd like to finish this initial experiment before I die of old age and dropped down to four lines, then three and so on. About half of the fabric used single lines of stitching.
I have no problems with hand-stitching, and I find it pretty soothing and meditative. But I also wanted to find out how it was going to turn out. It being an initial experiment, I wanted to see the finished piece to get an idea as to whether I was doing things right.
Drawing up the threads was fun — it felt like something was really happening now.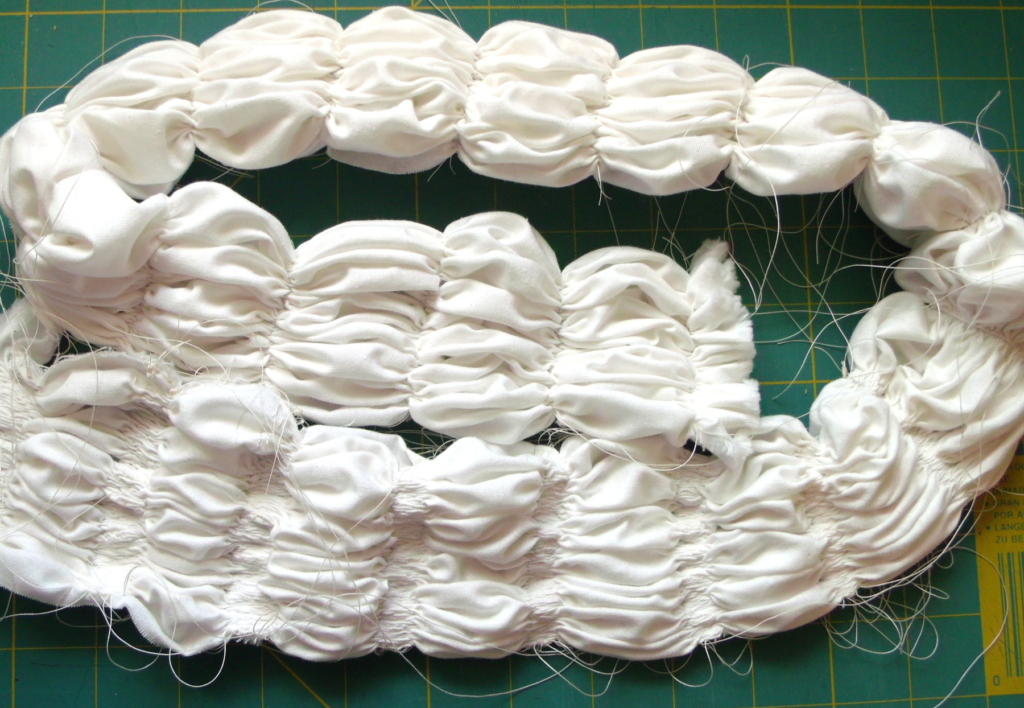 I'm still very new to dyeing. I knew I wanted shades of yellows leaning toward orange, but I wasn't holding my breath as to the results since it's all still trial and error. I used two teaspoons of lemon yellow, and a tiny bit of fuchsia. The dyebath instantly turned an alarming shade of red. Not what I was after, but red is also awesome, so it wasn't a huge disappointment or anything.
But it turned out almost exactly the colors I was looking for. I am so freaking thrilled with this thing — I can't wait to try a new piece! And to make something out of this one.