I'm participating in the 100 Day Project again this year. I intended to do a similar project to last year's — a series of (unrelated) mixed-media collages, with a heavy dose of monoprinting to create collage fodder.
That's not quite how things have been turning out, though. Have you ever had a project appear in your head and not give you any peace until you give in and start making it?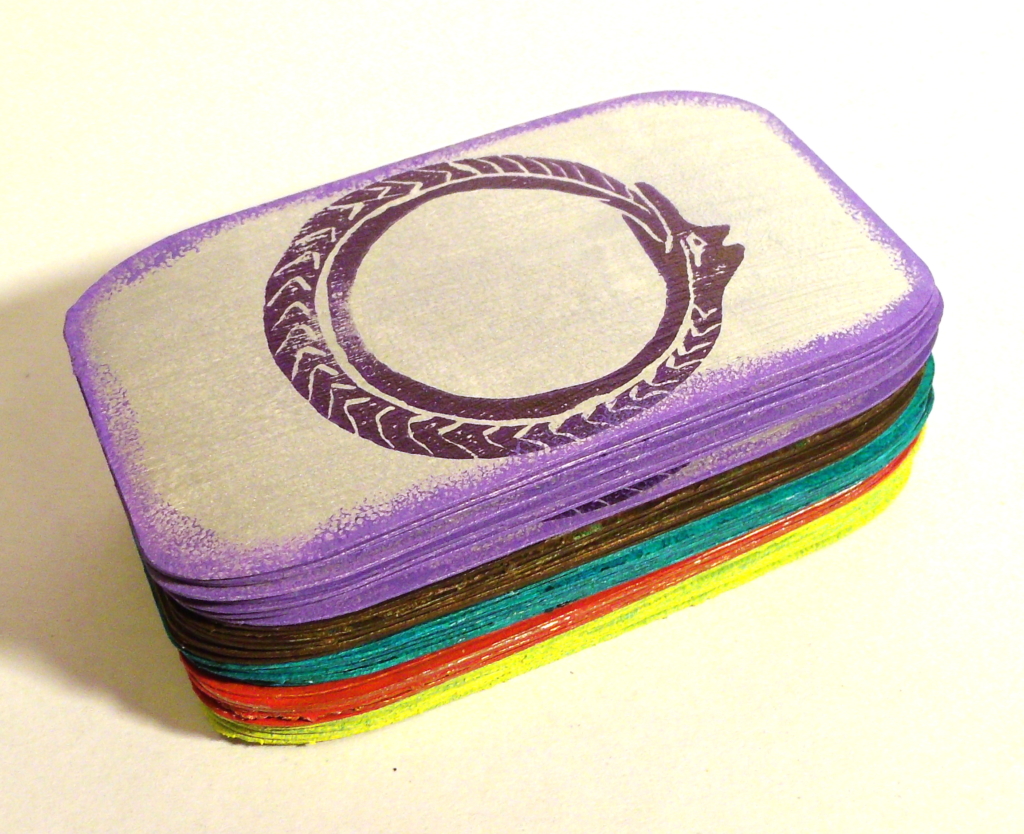 This idea initially started percolating in my head after I saw the fantastic Tarot-style pieces Dylan Meconis made during Inktober. My favorite one of them is The Sword. Here are the rest of the ones I could find in her Twitter feed: Celerity, The Monolith, Desire, The Sacrifice, The Oracle, Rest.
But I didn't have a concrete idea at that point and let it go. I started thinking about it again after seeing Kylie Coo's positivity deck project.
Then on the day this year's 100-Day Project started, I found myself cutting forty 2.75″x4″ cards out of vellum bristol and getting to work gessoing them. (I cut them on the ScanNCut, not by hand. Cutting them all by hand would've been total crazytown. Part of why I let go of this idea when I first thought about it was that I didn't want to cut them by hand, and I also didn't want to sand playing cards, which apparently you need to do to get paint to stick properly. But my family conspired to get me a ScanNCut for Christmas, which is letting me get up to all kinds of mayhem.)
I was thinking about alchemical imagery, so I divided them into five sets and added elemental imagery to the backs. Eight cards each for earth, air, fire, water, spirit.
I don't have any big plans for what I plan to do with these when the whole deck is finished. I just feel really, seriously compelled to make them.
I used pieces of monoprints, stenciling and stamps on the backs.
Did I mention up there that I got a ScanNCut for Christmas? This thing is beyond fabulous. I've been scanning in drawings (and in a few cases images from stamps I'd carved previously) and using it to cut stencils. I've hand-cut stencils before, but I have wrist problems and all that detailed cutting with an xacto knife gets really painful. Now I can make whatever stencils I want without ruining my wrist, which is wonderful.
Some of the card backs have imagery from the stencils I've been making — the swirls on the wind cards, the ferny plants on the earth cards. The water cards were stamped with a lotus stamp I carved a couple years ago, and I carved a new stamp for the spirit cards: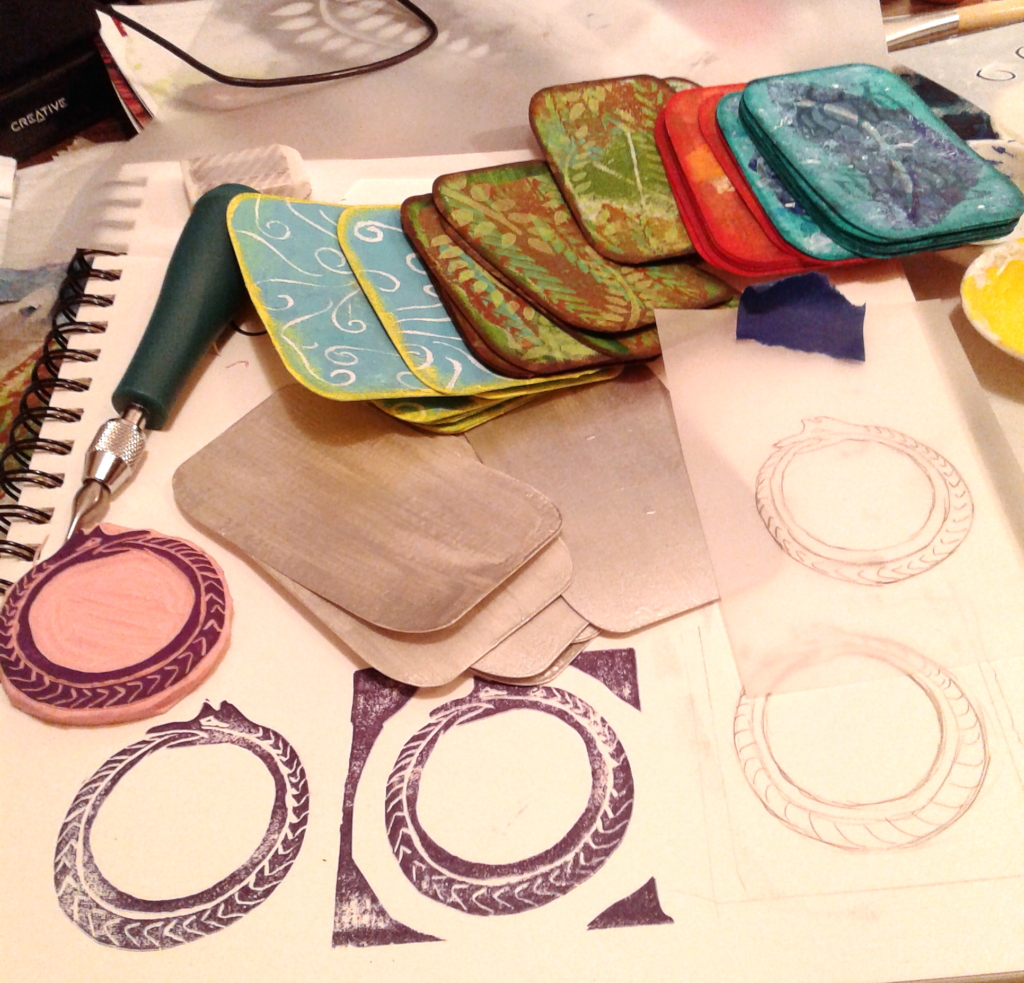 The ouroboros came from a photo I found online of a drawing from a 15th-century manuscript, adapted to make it a little simpler to carve.
I need to rework the purple edging around a few of those cards a bit — it was late when I finished them, and a couple of them are a little sloppy.
Next, I just need to come up with forty individual bits of imagery for the card fronts. No biggie, right?