Recently fate smiled upon me or something, because I won two blog giveaways in the space of a couple of days. How does that happen? I tend to enter a lot of giveaways, but I never really expect anything to come of it, you know?
Sandy of Quilting for the Rest of Us had a giveaway celebrating the third anniversary of her podcast (which is terrific, and if you haven't heard it you should definitely go check it out), and I won a sampler of Aurifil thread. I've heard all sorts of good things about Aurifil, but I haven't tried it myself yet — since I'm new at quilting, there tend to be so many things you end up needing to get started, and thread is an area where I've been scrimping. The sampler has all different types in it, a spool each of 50, 40, 28, and 12wt cotton and a spool of 12wt wool, so I get to try it out on a bunch of different projects — yay! And check out all the pretty colors:
Around the same time, I'd also been following along the Micro Mod blog hop, which was a lot of fun. There were so many great projects at the different stops. Sukie of Sukie — don't you know who I am? did a great eyelet quilt block at her stop, and I won her giveaway, which was a bundle of Micro Mod fat quarters and whichever Green Bee pattern I wanted — woohoo! I picked the Amelia dress pattern, which I've had my eye on for a while but kept hesitating because sewing garments is slightly scary. But with the pattern right in front of me, there's no excuse not to try, right?
The pattern came today, and I'm all excited. (The postal service is still having its way with the fabric — it has a good bit farther to go to get here than the pattern did.) I've even picked up some fabric already to have a go at making this dress. I decided to do a test drive/wearable muslin in something inexpensive, and I found a really cute yellow fabric with white polka dots. I'd been imagining the final version in sort of a buttery yellow voile, but since my test drive is yellow I'll probably pick something else if this version does turn out to be wearable.
Vladi has learned the sound of the camera turning on, it seems. He loves hindering acting as my photography director. ("Really, lady. All photos need a cat butt in them. It's all the rage! Also, isn't my tail magnificent?")
(I feel compelled to point out that the spot on the table really isn't dirt. That table has a lot of, um, character.)
And yes, of course he is magnificent.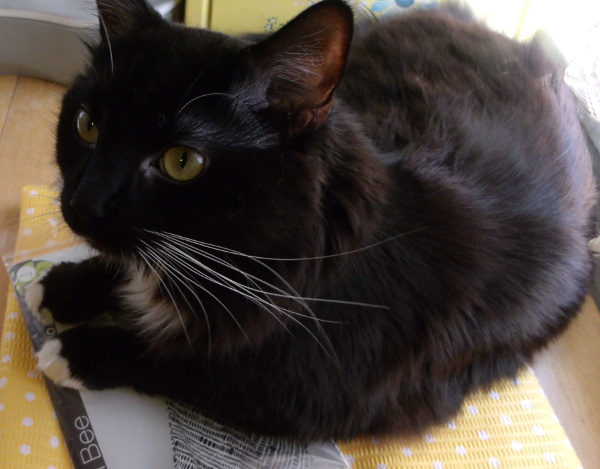 Besides this dress that I'm all amped up about making, there are so many things I'm excited about working on right now. I'm a few stitches away from being done with the major part of the embroidery for the calavera pillow cover, and then I'll throw a few marigolds on there and sew it up.
And I started another embroidered piece the other night, too. See, it's like this: Not too long ago, Sandy announced the Project Hope online quilt show, which I thought sounded like a lovely idea but at the time sort of automatically thought I wouldn't able to come up with a good idea because I'm inexperienced at quilting, because I've never done an art quilt, because of general self doubt.
Around the same time, I had this idea for an embroidery piece. This idea wouldn't be ignored, and it kept jabbing at me until I got it sketched out and scanned into the computer and cleaned up into something I'd be able to work with. After that I had no clue what I wanted to do with it.
Until the other day, when it suddenly became perfectly clear to me what that design meant to me — and that it was meant to be that art quilt I hadn't thought I'd be able to design. No pics of it yet, but I got the design transferred to the fabric and have started stitching. Once that's done I'll decide whether it needs something more or whether I want to quilt it up as is. I'm really excited about this project — I just hope it comes out something like what I'm imagining. And that I manage to finish it before the June 30th deadline, though hopefully that won't be a problem.
Oh, and you know I have this thing about hexagons lately, right? I swore up and down that I wasn't going to start another quilt until the sampler was finished. I have a habit of sometimes being distracted by shiny things, and I wanted to see this one through before I started another one. (Not counting the art quilt, since that's a much smaller project than the sampler.)
But I've been thinking a lot about doing a grandmother's flower garden quilt. It's totally not cheating on the sampler, right? I mean, it's hand sewing! Done during TV-watching time! Not taking time away from the sampler at all! Not to mention that it'll probably take me about five years to finish. Once I got the idea into my head, I couldn't shake it, and yesterday I found myself basting the first flower's worth of hexagons.