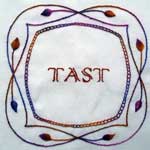 I've been putting my TAST sampler photos on Flickr, but I don't think I've talked about them here lately. (It's not quite Tuesday, but close enough — if I don't put this up now, it might not go up before Wednesday!) I've got two new ones going, one for filling stitches using the garden path sampler template from &Stitches. For this one I used the 6″ template. Between the two of them, I've gotten weeks 6-11 done in the past week or two.
Here I've got:
Week 7: detached chain stitch
Week 8: chain stitch (still working on the border)
Week 11: whipped wheel (ribbed web)
I liked the dark brown fabric I used for my June sampler-along sampler so much that I'm using more of it for this one. This piece shows more of the pleating — it had a former life as what I think was a pleated skirt, but not entirely sure since it had been cut up by the time I got it. On the other sampler, I tried to press out what pleating there was on that piece (which didn't entirely work), but on this one I decided it was sort of interesting and didn't try to press it out.
The whipped wheels were fun. I thought they'd be tedious, but it was neat playing around with them and seeing how the size of the base stitches and number of strands I used to go around them changed the character of the finished wheels. I'm doing this one all in the pretty variegated purple 12wt cotton Aurifil that I won in Sandy's podcast anniversary giveaway (and there will probably be lots left over for another project when I'm done) and silver DMC floss.
And this second one is going to have border-type stitches and things that don't fit well in the garden path sampler. I've decided to pretty much just run things all over the place however I feel like with beads and ribbon and bits of lace and whatever else I decide to throw in.
Week 6: chevron stitch
Week 9: couching
Week 10: running stitch (some beaded, some plain)
The ribbon I couched down with the chevron stitch went all wiggledy when I took it off the hoop. Not sure what happened there — maybe the fabric wasn't stretched evenly?
The yarn I couched down is two pieces of my handspun. It's some of the leftovers from this skein, which I finished last September:
I think it might have been the first true 3-ply I ever did. It's a little over-twisty in places — I have trouble with merino and tend to underspin it, and I plied it pretty tightly to try to compensate for that. I made about two thirds of it into a pair of fingerless gloves but still have probably an ounce or so left, probably enough to use in a pair of colorwork mittens.
PS: Can I be a giant dork and squee a little? The DMC Threads blog recently did a sampler roundup post, and they showed my June sampler-along sampler and linked to me! I was totally thrilled when I saw that.