I have not been as wildly prolific as I imagined I might, which I'm okay with. I've been getting my energy back after being sick but have still managed to do some work on this every day. Not many finished pieces yet, but I have a lot of raw material now.
One day recently I saw a video demonstrating dendritic monoprinting and became wildly enamored of it.
I finished the collage from my art journal that was partially done last time I posted, and also made another one this week. I have mixed feelings about both of these. Sometimes I love them, and sometimes I'm not sure what I was thinking when I did this.
During one evening where I was too tired to do much else, I dug out this tiny manila-folder book that I haven't touched in ages. I had been adhering gel prints to it with the intention of doing something or other with it once there was a background on each page. (The exact nature of this something-or-other has not been worked out yet.)
I hated this print until it was attached to the page — at that point I discovered that I actually like it.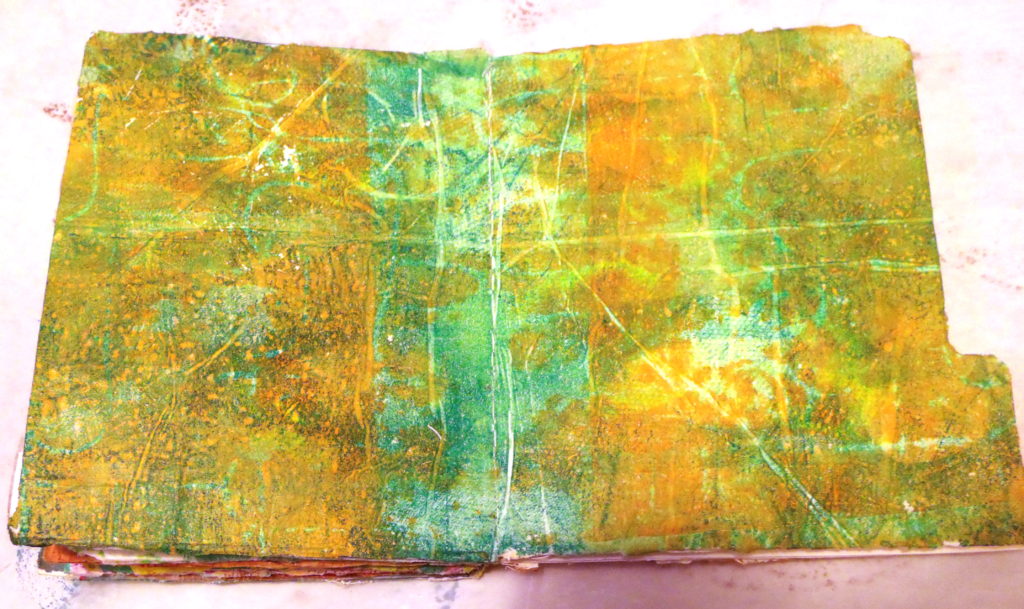 I also ordered some magic stamps from an Ebay seller and have been messing around with them — I used them in the first of the two collages above. These are foam blocks that you can heat up with a heat gun and then impress a shape into them. The impression will disappear when you take the heat gun to it again, so you can reuse them. I'm going to break out the gel plate and try them on it today.
My favorite of the magic stamps impressions I've tried so far is of a bunch of wooden thread spools. Some still have thread on them, and I was able to get the thread to impress on a couple.
I don't imagine I'll get anywhere near that level of detail using it to pull paint of the gel plate since I have to press pretty hard to get the thread to print, but it worked really well with ink.
And I have tons of fodder left from the monoprinting sessions I've done so far: