I'm at a point in my 100 day project where I'm questioning my sanity in choosing to do this. This feeling is not being helped much by last night's misadventures with water-soluble pencils. Once I post this, I'm going to make a bunch more prints. That generally gives me a bunch of new ideas and should help with the feeling that I'm flailing around trying to figure out what to do next.
First, here's something I am feeling pretty good about:
This is the book I've been working in lately, including much of the work I've done during this project. It's half-filled now, with about half of the filled pages finished since the beginning of the year. Before that I hadn't touched it since last summer because I was busy with other projects, and it feels nice to be making a mess with paint and glue and whatnot again.
Last night's technical difficulties involved Inktense pencils, specifically the black one. I've used various colored Inktense pencils on top of matte medium before with no problems, including in this exact piece.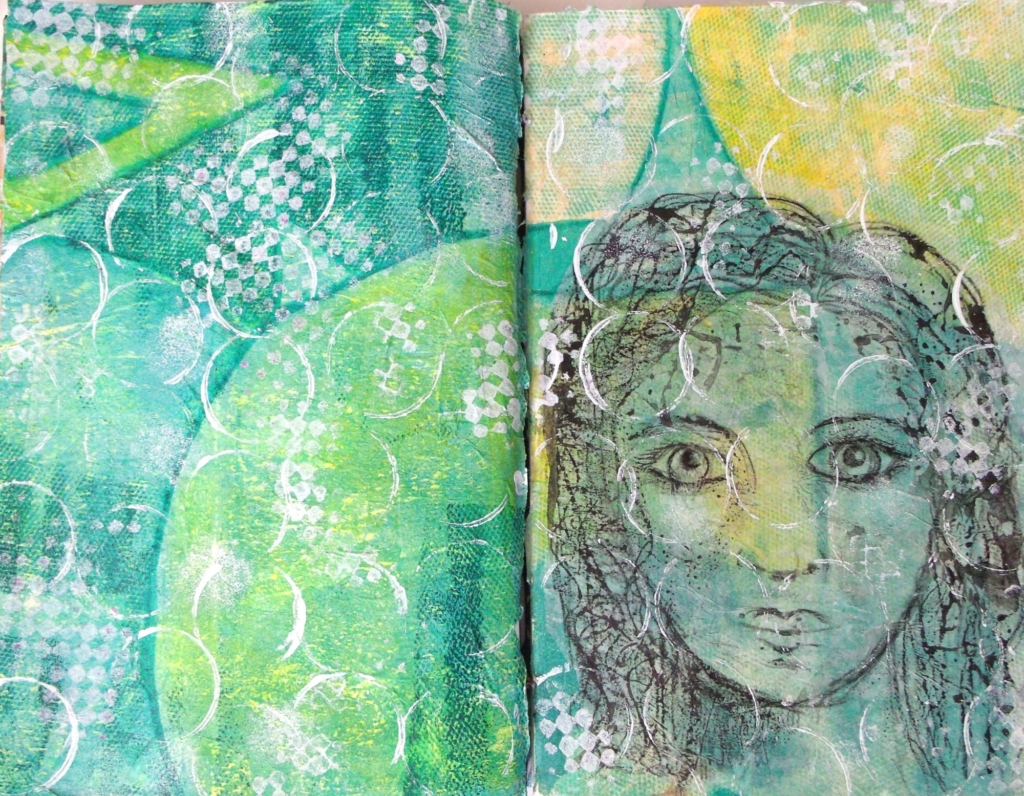 The green outlines around the geometric shapes as well as a few of the yellow areas are Inktense pencil. I applied it over the matte medium that I used to glue down the background prints, and it spread nicely when I wet it and didn't bead up.
That face is another story entirely though. I used a black Inktense pencil for that, and it beaded up like crazy. Maybe the black one is a different formulation than the colors? I'd originally planned to put more detail into the face than this, but with the pencil beading up all over the place, I decided to just take the heat gun to it to get it to dry and stop moving around on me, then took out my frustrations with the white paint.
And yep, still practicing faces. I've more or less gotten the hang of what size the eyes should be, but I'm struggling with getting the eyes to actually match each other. Sooner or later I'll start getting it right!