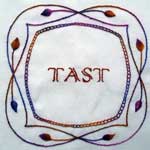 I'd been toying with the idea of trying out a new embroidery stitch every week, but I hadn't quite gotten around to starting. Then last week I found Take a Stitch Tuesday at Pintangle, and it was exactly like what I had in mind. Only, you know, organized and stuff. I started an embarrassingly wobbly-looking sampler and learned two stitches last week and one this week. Last week I was using a hoop that kept slipping, which contributed to the wobbliness. I've wrapped the inner part of the hoop in first aid tape, which has helped a lot, but I think I need to pick up some non-bargain-basement hoops or a bigger q-snap frame. I really like the q-snap frame I've been using for the calavera project, and I have a small plastic hoop that I like, but my bigger ones are all cheapie balsa ones that I got at a thrift store and they're a little problematic to use.
Top to bottom: fly stitch, buttonhole stitch, feather stitch (which was seriously fun to do)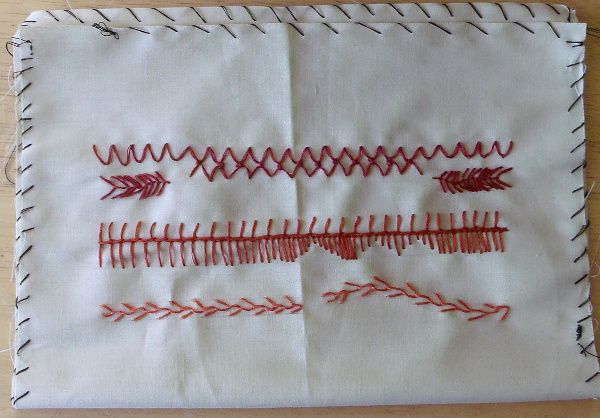 And I finally finished the skull part of the calavera embroidery project! Last night I transferred a handful of marigolds and started on those. I considered filling the marigolds rather than just outlining them but decided against it figuring it might look odd since the skull is all outlining.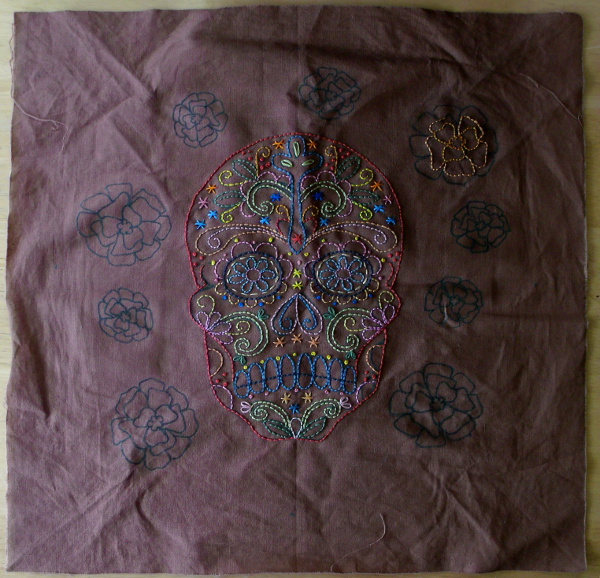 I measured it, and I did indeed cut the fabric too small for a 14″ pillow — 14½, and I've lost about an eighth inch to fraying since I hadn't yet learned how to neaten the edges to keep it from fraying when I started it. I decided to just go ahead and make it 12″ instead and made sure to keep the marigolds within that size.